FAQ
You've got questions and we've got answers!
Below are the most frequently asked questions about the service and how it works. Scroll through to find out more about this service and how you can incorporate it into your business.
How it works
Finding and coordinating outfits for couples, families, maternity or
high school graduation photos shouldn't be hard!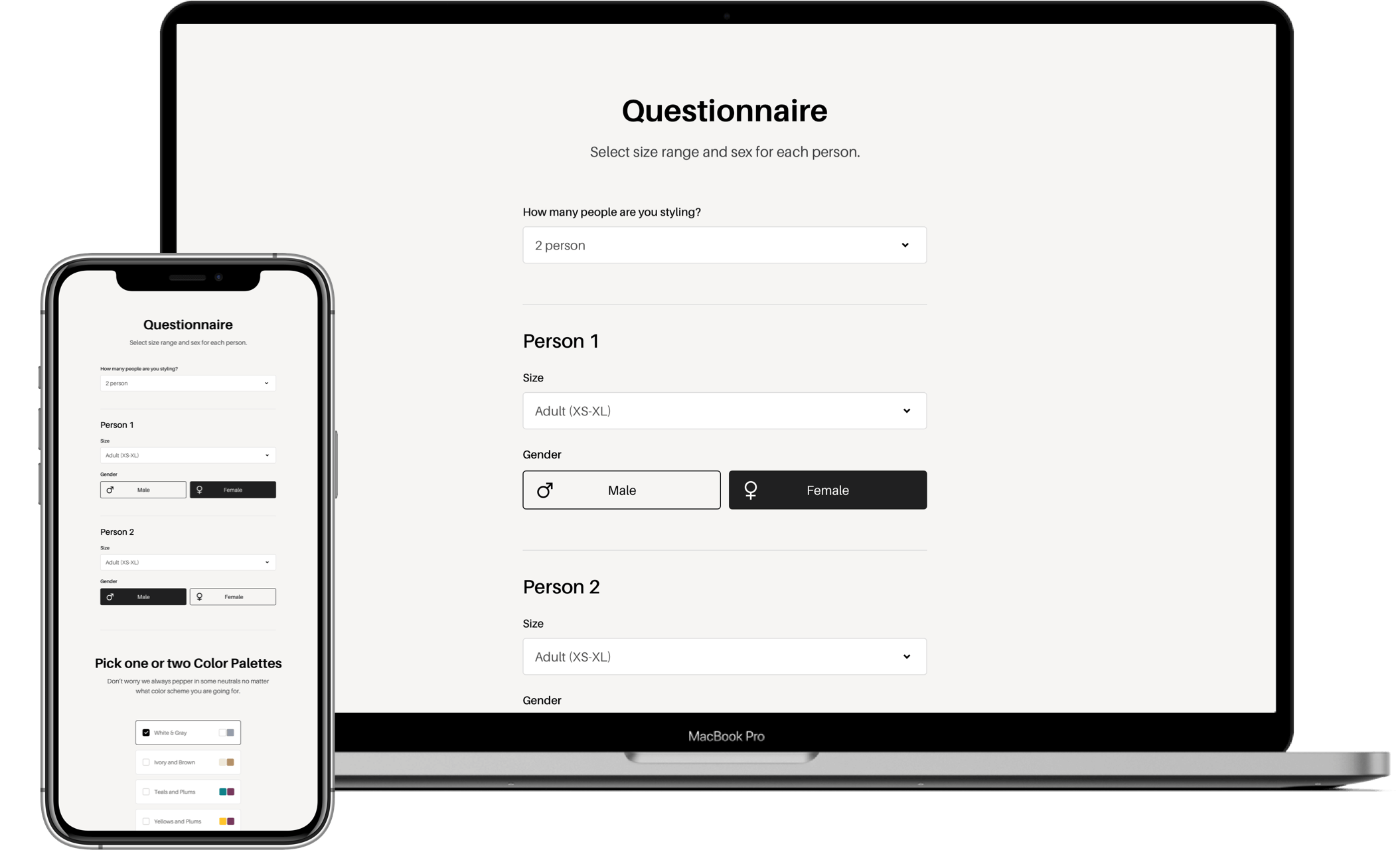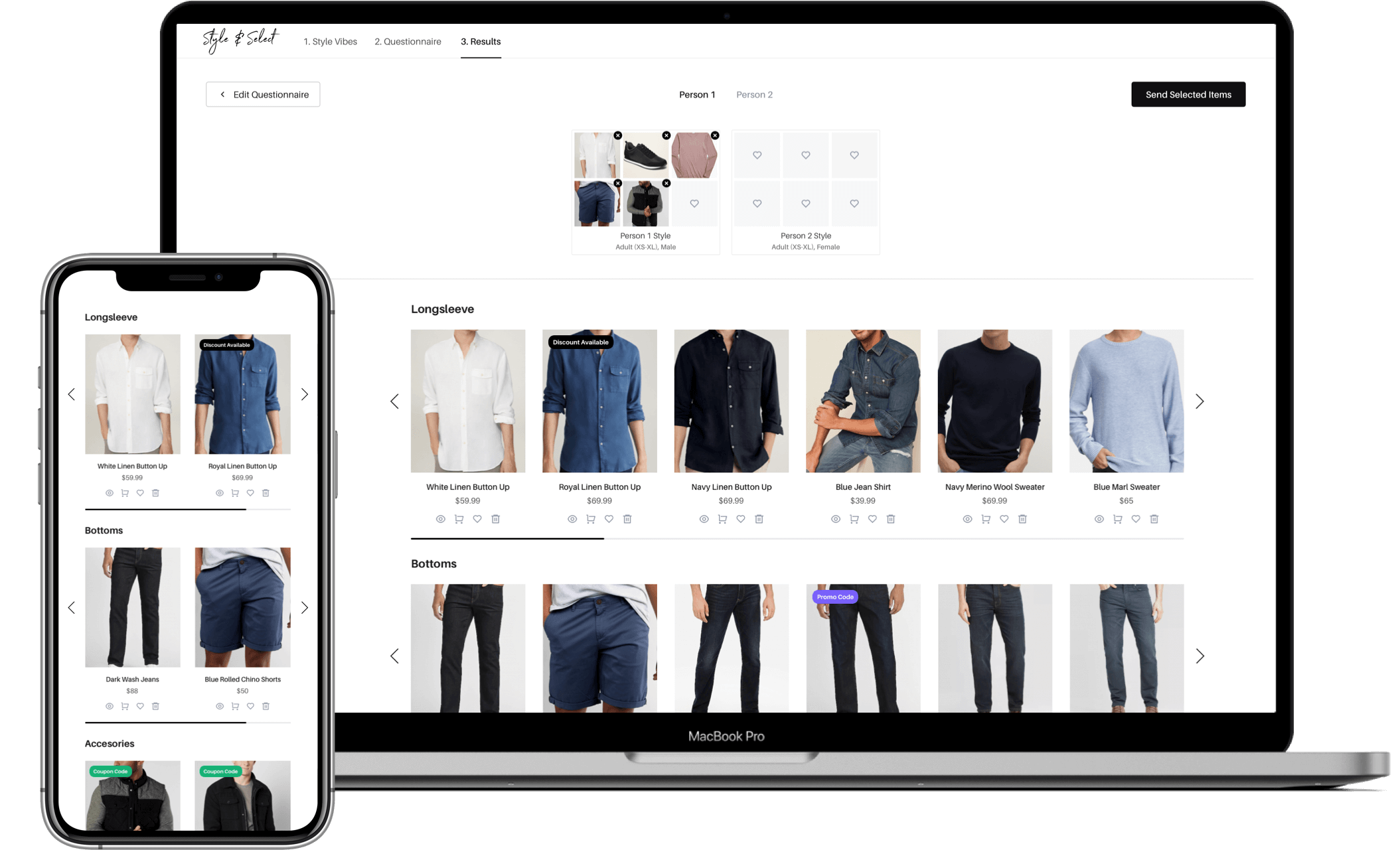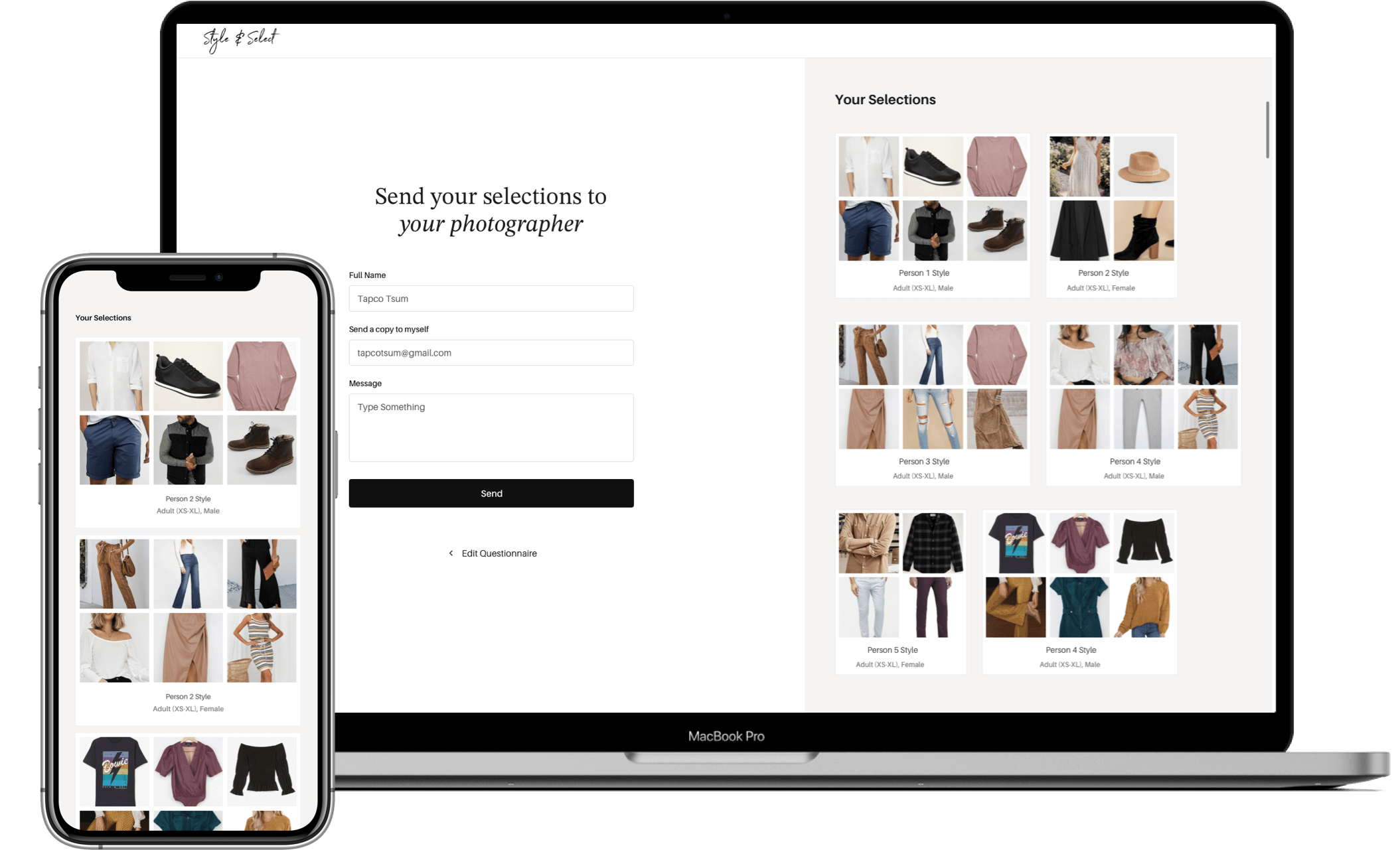 How do I offer this to my clients?
Once you are a member you will receive a welcome email with instructions. You can style your clients and email them tailored results or you can hand the styling process over to your clients and allow them access to the questionnaire/results.
How can I see Style & Select in action?
Seeing it in action is the best way to show you how seamless Style & Select is. There are multiple ways you can preview how Style & Select works:
-Check out our informational video: How Style & Select works 
-Sign up for a 15 day trial for $15 (one time fee): Sign up here
-Check out our instagram 'how it works' highlight reels for behind the scenes video clips of our results page in action : @style_and_select
What types of sessions can I style?
Couples, Families, Maternity and High School Graduation sessions can be styled using this resource. We do all the leg work in finding photo approved clothing items, linking them to the correct stores and putting everything in certain categories to match the look you are going for.
What are Styling Codes?
Styling access codes are used to unlock the questionnaire to begin the styling process! Once a member, you can create a custom styling code linked to your account. Members also have the ability to create a styling code for each family/client or create monthly ones to give to clients that all have booked sessions in the same month. Once that month has passed – you can delete the code to ensure clients do not use at a later date or share with others.
What Questions are on the Styling Questionnaire?
All of the important info is collected on the questionnaire! How many people, size, sex, color scheme, style (vibe) of clothing you are going for!
How can I use Style & Select with my Client Closet?
You have the ability to add photos of your entire client closet into a "library" and these photos will show up in the results every time. That way you can incorporate your own pieces along with items from Style & Select Results when coordinating outfits.
What Retailers Do You Use and What Sizes Are Offered?
We pull from a lot of big name box stores such as Target, H&M, Free People, Torrid, Gap, etc, as well as, smaller online boutiques that offer unique items! Our goal is to provide budget friendly options ranging from $10-$90, with the exception of a few higher priced items ($150+) sprinkled through out each color combo. We include Maternity, Plus Size, Adult S-XL and kids ranging from 0-24 months to 14Y
How Often are Results Updated?
Style & Select is a team of 4 women adding and deleting clothing items on a daily basis. We strive to add a minimum of 50 new items per day and remove sold out or nearly sold out items on a weekly basis.
How Do I Pick Clothing Items in the Results?
After filling out the questionnaire, your results will show you curated items that fit the age group and colors. You can select items to begin the coordination part by clicking the heart symbol on the item. This will pull your selected item into the top coordination bar and you can visually see how things will coordinate next to each other. Cohesive outfits are key!
How Are Outfit Selections Saved?
You or your client can only save outfit combinations by email. When you or your client are finished with the coordination process and have everyone styled, there is an email button that sends photos, shopping links and even a custom message! These emails are logged into your member account area under "Emailed Selections" tab.
What if My Client Doesn't Want to Buy New Things?
That is perfectly fine! In fact, we encourage them to use as many items from their own closets as possible. Style & Select results can be used as a visual tool to help them pull basics from their own closets, used as a guide when shopping locally or they may only purchase a few key pieces from their Result Email.
Sign up now